"NIETZSCHE: ANTICHRIST" by Rolf Alme, Norwegian Theatre Academy 2006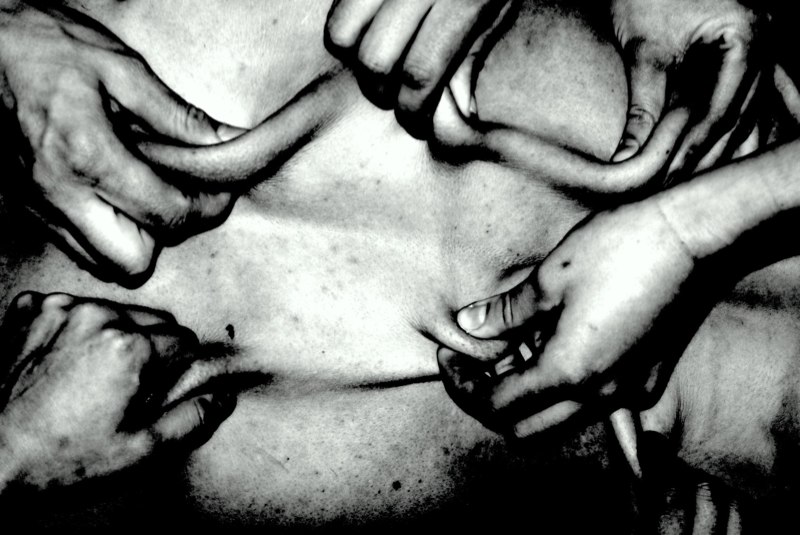 A performance based on text fragments from Nietzsche's "Antichrist" and Zen Buddhist philosophy:
NIETZSCHE ANTICHRIST – THE TEXT:
(The text fragments used in scene 2 to 12 are taken from Nietzsche's work "Antichrist" that was written 1888. The text fragments in scene 13 to 21 come from Zen Buddhism.)
SCENE 02: FIRST MANIFESTO – CHRISTIANITY IS WAR ON LIFE
The Christian concept of God – God as the deity of the sick, God as a spider, God as spirit – is one of the most corrupt concepts of God that has ever been attained on earth. Maybe it represents the low-water mark in the evolutionary ebb of the godlike type. God degenerated into the contradiction of life, instead of being its transfiguration and eternal Yea! With God war is declared on life, nature, and the will to life!
SCENE 03: POWER IS GOOD
What is good? All that enhances the feeling of power, the Will to Power, and power itself in man. What is bad? All that proceeds from weakness. What is happiness? The feeling that power is increasing, that resistance has been overcome.
SCENE 04: PITY
Christianity is called the religion of pity. Pity is opposed to the tonic passions, which enhance the energy of the feeling of life: its action is depressing. A man looses power when he pities. By means of pity the drain on strength which suffering itself already introduces into the world is multiplied a thousand fold. Through pity, suffering itself becomes infectious; in certain circumstances it may lead to a total loss of life and vital energy, which is absurdly out of proportion to the magnitude of the cause.
SCENE 05: HATRED OF THE SENSES
In Christianity the body is despised, hygiene is repudiated as sensual; the church repudiates even cleanliness (-the first Christian measure after the banishment of the Moors was the closing of the public baths -). A certain spirit of cruelty towards one's self and others is also Christian: hatred of all those who do not share one's views; the will to persecute. Sombre and exciting ideas are in the foreground. Christian is the hatred of the intellect, of pride, of courage, freedom, intellectual libertinage; Christian is the hatred of the senses, of the joy of the senses, of joy in general.
"And if your eye offend you, pluck it out: it is better for you to enter into the kingdom of God with one eye, than having two eyes to be cast into hell fire."
SCENE 06: FEAR OF SCIENCE
Has anybody ever really understood the celebrated story that stands at the beginning of the Bible, concerning God's deadly panic over science? The old God, entirely "spirit", a high priest through and through, and wholly perfect, is wandering in a leisurely fashion round his garden; but he is bored. Against boredom even the gods themselves struggle in vain. What does he do? He invents man, man is entertaining… But, behold, even man begins to be bored. God's compassion for the only form of misery that is peculiar to all paradises, exceeds all bounds: so forthwith he creates yet other animals. God's first mistake: man did not think animals entertaining, – he dominated them, he did not even wish to be an "animal". Consequently God created woman. And boredom did indeed cease from that moment, but many other things ceased as well! Woman was God's second mistake. – "Woman in her innermost nature is a serpent" – every priest knows this: "all evil came into the world through woman," – every priest knows this too. "Consequently science also comes from woman"… Only through woman did man learn to taste of the tree of knowledge. – What had happened? Panic had seized the old God. Man himself had been his greatest mistake, he had created a rival for himself, science makes you equal to God, – it is all up with priests and gods when man becomes scientific! – Moral: science is the most prohibited thing of all, it alone, is forbidden. Science is the first, the germ of all sins, the original sin.
How can one guard against science? For ages this was his principal problem. Reply: man must be kicked out of paradise! Happiness, leisure leads to thinking, all thoughts are bad thoughts… Man must not think. – And God invents distress, death, any misery, old age, above all disease, all employed in the struggle with science! Trouble prevents man from thinking… And notwithstanding all these precautions! Oh, horror! The work of science towers aloft, it storms heaven itself, – what's to be done? – The God invents war; he separates the nations, and contrives to make men destroy each other mutually (- the priests have always been in need of war…). War, among other things, is a great disturber of science! – Incredible! Knowledge nevertheless increases. – So the old God arrives at this final decision: "Man has become scientific, there is no help for it, he must be drowned!"…
SCENE 07: BUDDHISM
With my condemnation of Christianity I should not like to have done injustice to a religion which is related to it; Buddhism. Buddhism is a hundred times more realistic than Christianity, – it is part of its constitutional heritage to be able to face problems objectively and coolly. The concept "God" was already exploded when it appeared. Buddhism is the only really positive religion to be found in history. It no longer speaks of the "struggle with sin", but fully recognizing the true nature of reality it speaks of the "struggle with pain". It already has and this distinguishes it fundamentally from Christianity, – the self-deception of moral concepts beneath it, – to use my own phraseology, it stands Beyond Good and Evil.
In Buddha's doctrine egoism is a duty: the thing which is above all necessary, "how can you be rid of suffering" regulates and defines the whole of the spiritual diet.
Cheerfulness, peace and absence of desire, are the highest of inspirations, and they are realized. Buddhism is not a religion in which perfection is merely aspired to: perfection is the normal case.
Buddhism is a hundred times colder, more truthful, more objective. It no longer requires to justify pain and its susceptibility to suffering by the interpretation of sin, – it simply says what it thinks, "I suffer".
—
For this remains the fundamental difference between the two religions: Buddhism promises little but fulfills more, Christianity promises everything but fulfills nothing.
SCENE 8: THE AFTERLIFE
When the centre of gravity of life is laid, not in life, but in a beyond – in nonentity, – life is utterly robbed of its balance. The great lie of personal immortality destroys all reason, all nature in the instincts, everything in the instincts that is beneficent, that promotes life and that is a guarantee of the future, henceforward aroused suspicion. The very meaning of life is now construed as the effort to live in such a way that life no longer has any point.
SCENE 09: THE REALITY
In Christianity, neither morality nor religion comes in touch at all with reality. Nothing but imaginary causes (God, the soul, the ego, spirit, free will – or even non-free will); nothing but imaginary effects (sin, salvation, grace, punishment, forgiveness of sins). Imaginary beings are supposed to have intercourse (God ,spirits, souls); an imaginary teleology (the Kingdom of God, The Last Judgment, Everlasting Life). – This purely fictitious world distinguishes itself very unfavorably from the world of dreams; the latter reflects reality, whereas the former falsifies, depreciates and denies it. Once the concept "nature" was taken to mean the opposite of the concept of God, the world "natural" had to acquire the meaning abominable. The whole of that fictional world takes its root in the hatred of nature, – reality.
SCENE 10: FAITH AND LIES
"Faith saves; therefore it is true." – It might be objected here that it is precisely salvation that is not proved but only promised: salvation is bound up with the condition faith. But how prove that that which the priest promises to the faithful really will take place? The assumed "proof of power" is at bottom once again only a belief in the fact that the effect which faith promises will not fail to take place.
"Faith" simply means the refusal to know what is true.
I call a lie, to refuse to see something that one sees, to refuse to see it exactly as one sees it: whether a lie is perpetrated before witnesses or not is beside the point. – The most common sort of lie is the one uttered to one's self; to lie to others is relatively exceptional.
SCENE 11: THE WEAK
Again I remind you of St Paul's priceless words: "And God has chosen the weak things of the world, the foolish things of the world, the low things of the world, and things that are despised." This was the formula, thereby triumphed decadence.
SCENE 12: SECOND MANIFESTO – CHRISTIANITY IS A CURSE
This eternal accusation against Christianity I would write on all walls, wherever there are walls, – I have letters with which I can make even the blind see… I call Christianity the one great curse, the one enormous and innermost perversion, the one great instinct of revenge, for which no means are too venomous, too underhand, too underground and too petty, I call it the one immortal shame of mankind…
SCENE 13: THE BODILY FORM OF THE WIND
Trees show the bodily form of the wind;
Waves give vital energy to the moon.
At dusk the cock announces dawn;
At midnight, the bright sun.
SCENE 14: SITTING QUIETLY DOING NOTHING
Sitting meditation is not, as often supposed, a spiritual 'exercise'. From a Buddhist standpoint, it is simply the proper way to sit.
There is, indeed, nothing unnatural in long periods of quiet sitting. Cats do it.
Because the world is not going anywhere there is no hurry.
So long as one thinks about listening, one cannot hear clearly, and so long as one thinks about trying or not trying to let go of oneself, one cannot let go.
SCENE 15: ZEN HAS NOTHING TO SAY
The basic position of Zen is that it has nothing to say, nothing to teach. The truth of Buddhism is so self-evident, so obvious that it is, if anything, concealed by explaining it.
Words can be communicative only between those who share similar experiences.
SCENE 16: APPROACHING PERFECT SELF-CONTROL
Mechanically and logically it is easy to see that any system approaching perfect self-control is also approaching self-frustration.
SCENE 17: WHAT WILL HAPPEN TO ME WHEN I DIE?
What will happen to me when I die is, after all, like asking what happens to my fist when I open my hand.
SCENE 18: THERE IS NO EGO
There is no ego, no enduring entity which is the constant subject of our changing experiences. For the ego exists in an abstract sense alone.
To one that has self-knowledge, there is no duality between himself and the external world.
SCENE 19: ATTEMPTING THE IMPOSSIBLE LEARNING VIETNAMESE
Life as we usually live it is suffering – or, more exactly, is tormented by the peculiar frustration that comes from attempting the impossible.
SCENE 21: THERE IS NO MORAL
Buddhism does not share the Western view that there is a moral law, enjoined by God or nature, which is man's duty to obey.
If you want to get the plain truth,
Be not concerned with right and wrong.
The conflict between right and wrong
Is the sickness of the mind.
When everyone recognizes beauty as beautiful,
There is already ugliness;
When everyone recognizes goodness as good,
There is already evil.
To save life it must be destroyed.
When utterly destroyed, one dwells for the first time in peace.